What is a Safety Management Plan?
A safety plan is frequently included when preparing for a large project. This can be created by a Principal Contractor (to present to their client, or it can be a Contractor preparing to work for a Principal contractor. And, it must be SITE SPECIFIC. Its purpose is to demonstrate to clients that you have considered the measures you will implement to guarantee the health and safety of your employees and other individuals on a project.
Zardocs Software can assist you in setting up Site Specific Safety Plans. We also offer the service of doing this for you.
Always remember – All documents must be site specific!
Contains a wide range of subjects,
and all its content is created by safety specialists.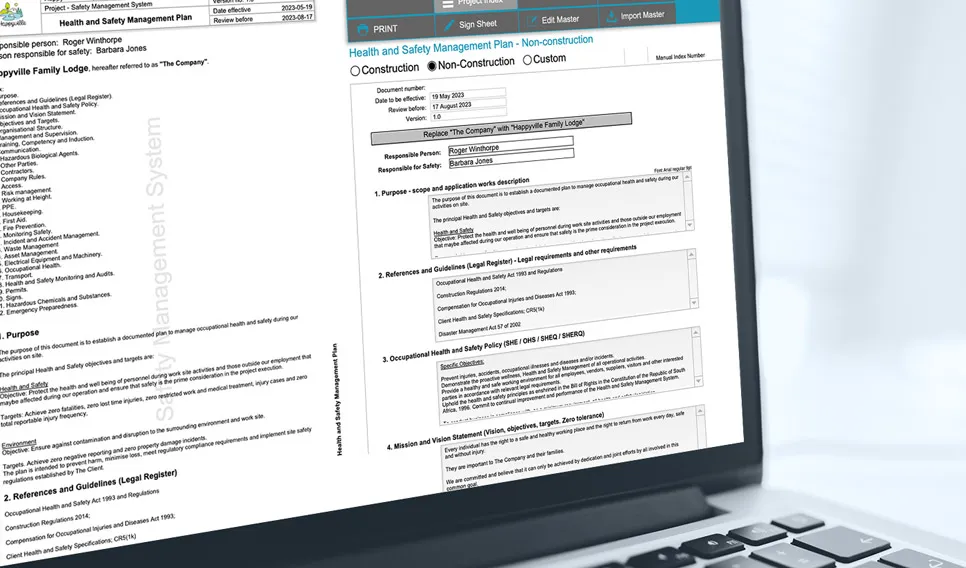 A Site Specific Safety Plan (SSSP) is a commonly set of about 15-20 different aspects of safety relating to a project.
Construction or Non-construction templates are available.
Index
Scope of Works
Emergency contact list
Public liability insurance
Responsibility documents
SSSP Agreement
Safety Management Plan
Hazard and Risk Register
Site hazard inspection
Hazardous substances register
JSA / SWMS
SOPs
SWPs
Incident reporting
General emergency procedures
Training and competency register
Tool and equipment register
Frequently Asked Questions
A safety plan is specific to your company's activities and your client's requirements.
What kind of safety plan do I need?
Check with your client whether they have a preferred Safety Plan format.
Zardocs Compliance Software allows for creating indexes and content to suit your client's specific requirements.
What is the cost of the software to build safety plans?
The main software system includes the safety plan component and is not an extra charge.
How easy is it to use the safety plan software?
It is all in plain language. Please remember that the content must refer to your project activities only. If you have information that is not relevant, it will be rejected. We recommend spending some time setting you your master documents so a new SSSP is quick and easy to build.
What is included in the safety plan?
See the list above this section.
Do I need a Safety Plan?
A common guide is if you are to be on a project for over a week, there is a good chance your Principal Contractor will require you to develop and present a Site Specific Safety Plan. It is a very good document, as it covers all the common aspects of health and safety that affect a company, its project, the hazards and risks, its workforce, other workers and the public.