Prequal software – linking questions to documents
Tōtika | Impac Prequal | Sitewise | SHE LASS
It is a common requirement for larger companies and councils to request a 'PREQUAL' certificate before being added to the Preferred Supplier list. They need to establish that your company has suitable and sufficient systems in place to give them peace of mind that you can operate safely on their site.
We can assist with the following pre-qualifications:

Zardocs Software has a dedicated section to assist you in achieving this.
Documents must match their specific requirements.
Contains quick-links to documents requested in the prequal
---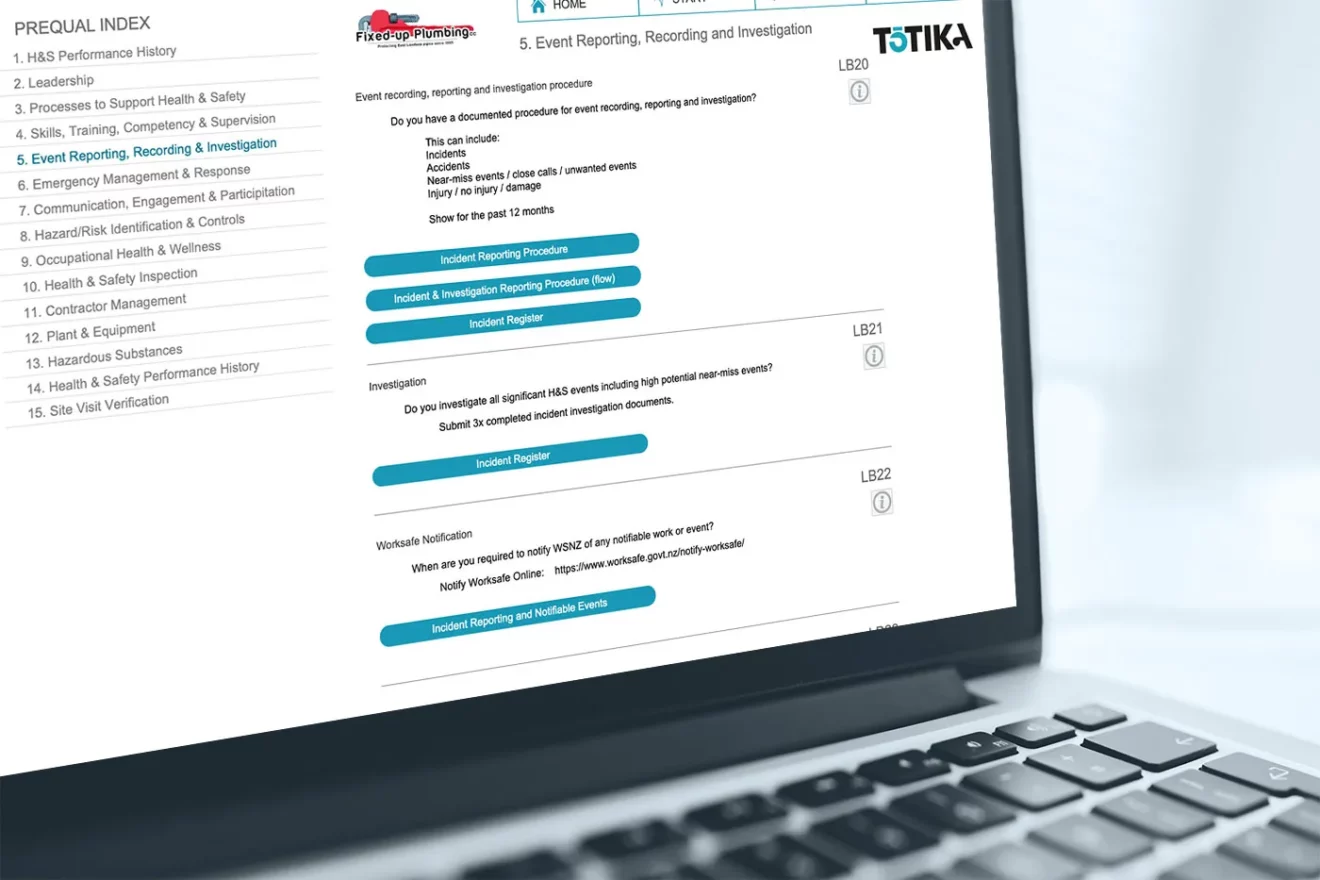 A prequalification can have over 50 different requirements.
Construction or Non-construction industries are serviced.
Index
Scope of Works
Emergency contact list
Public liability insurance
Responsibility documents
SSSP Agreement
Safety Management Plan
Hazard and Risk Register
Site hazard inspection
Hazardous substances register
JSA / SWMS
SOPs
SWPs
Incident reporting
General emergency procedures
Training and competency register
Tool and equipment register
Frequently Asked Questions
A safety plan is specific to your company's activities and your client's requirements.
Can I add other documents to the list?
Yes, any document within the system can be added to allow you to create the required list – Policy, procedure, checklists, responsibilities, etc. If you need to add a graphic object, like a special table, you can scan that in.
Am I guaranteed a pass to my pre-qualification if I use the software?
No. The documents supplied answer the questions of the prequal. Your pass mark is dependent on you making sure the information supplied is specific to your company activities and whether the information contained is communicated to your workers and contractors.
How easy is it to use the software?
It is all in plain language. There are links that take you to the areas specifically covered in the prequalification questionnaire.
How long does it take?
There are components that need to show 'ongoing history', e.g. Show weekly site briefings over 4 weeks, likewise with inspections, etc. So if you don't already have these, you need to build them up.
Once submitted, can I still use the software to manage my Health and Safety?
Definitely. That is one of the biggest advantages. In setting up for a pre-qualification audit, you are asked to set up all the important aspects for a company of the size you stipulated. They are a great guideline. This also means you can enter all your meeting minutes, incidents, and checklists into the system on an ongoing basis. This allows you to generate an SSSP quickly for a project and makes it easy for submitting to a new or renewed prequal.
What support is included?
All our clients are entitled to an hour of FREE online support with Zoom. In this time, you will be guided on how to use the program effectively to complete your prequal.