Build a SSSP Quickly
Once setup, you can build a SSSP in minutes, rather than hours.
SSSP – Site Specific Safety Plan
A SSSP, or Site Specific Safety File, is part of your company's Health & Safety Management Program. It demonstrates to your clients and principal contractors that you have taken suitable precautions to ensure that the health and safety of your employees, nor any other person, is going to be negatively affected by the actions of your staff on site.
The information contained must only refer to the activities of that project only – That is why they call it 'Site Specific'. It is not a generic document.
This is also different from a "Company Safety Management System" (SMS) – which is all about day-to-day safety systems within your company – there is different software for that.
A Safety File contains many different documents, which all fulfil the requirements of the Health and Safety Act.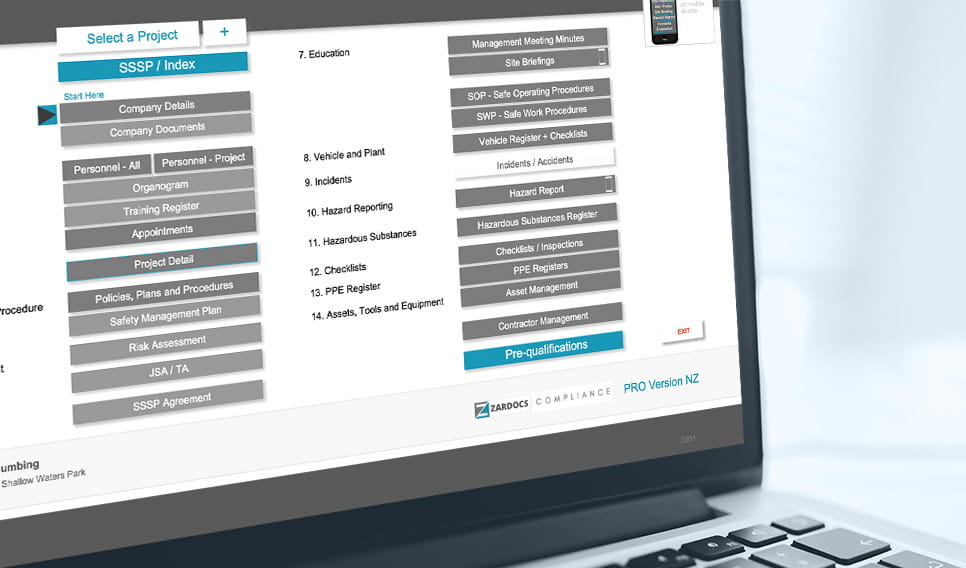 About the content
The regulations do not tell us what a Health and Safety File must look like, so we have built Zardocs around what is considered 'common practice' – we provide all the documents commonly used, as well as many that are used for different activities.
These documents will assist you in keeping details up-to-date and relevant.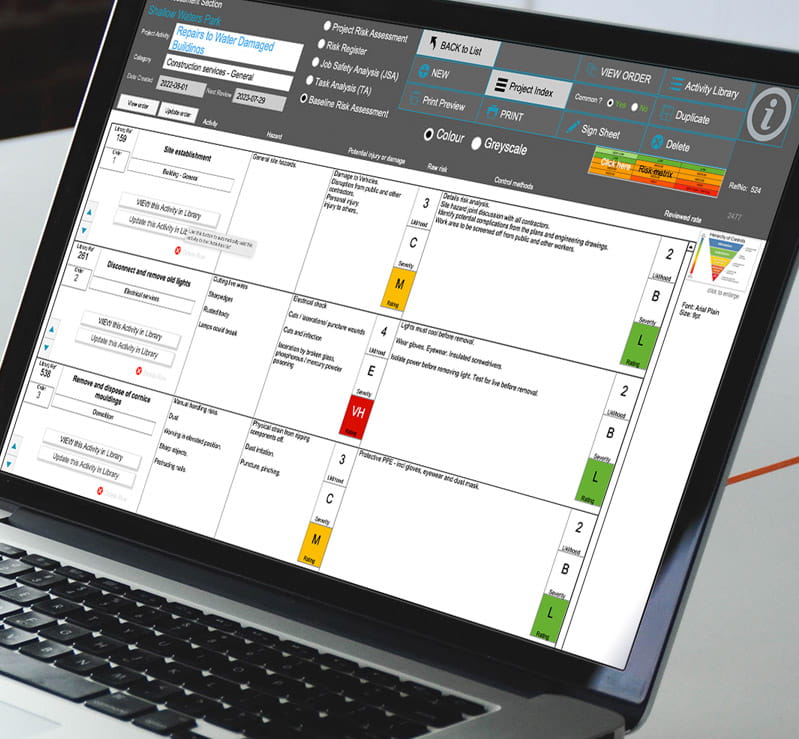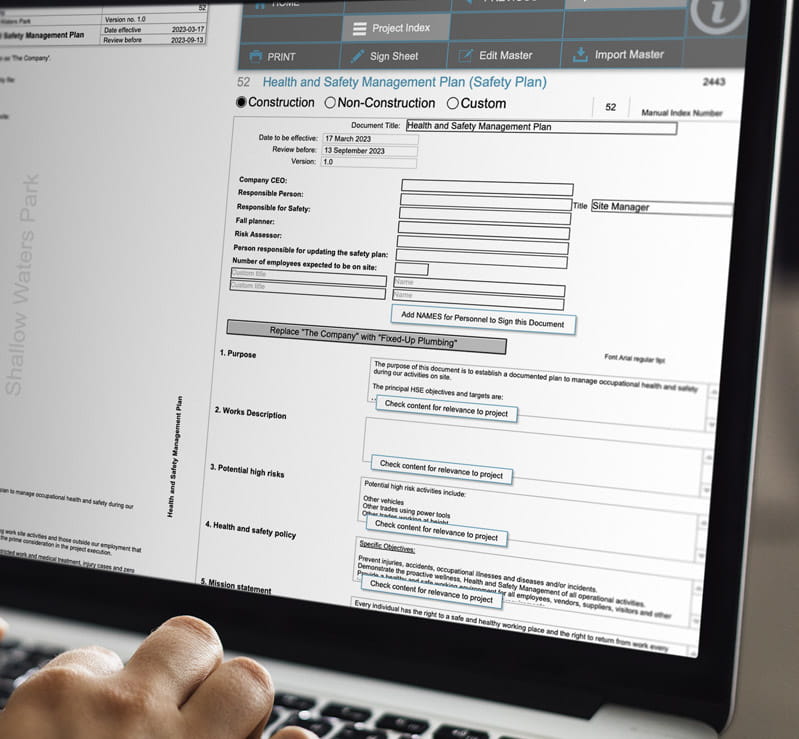 OHS – Occupational Health and Safety – OSH / SHE / SHEQ / SHERQ
The Occupational Health and safety act is a worldwide initiative to reduce or eliminate accidents in the workplace. Our Zardocs Safety Software creates a detailed Safety Management System which allows you to keep your company compliant with the least amount of effort. Effective compliance and systems prevent penalties by principal contractors and Government agencies, and our job is to help you achieve this
---
Zardocs SSSP Modules
Discover Zardocs's Health and Safety File modules with over 500 customizable templates to choose from.
Our templates are tailored to meet the specific needs of your activity, ensuring you only select the documents that are relevant to your project.
Our team is available to guide you every step of the way, ensuring you have the right templates for your project.
Project Documents
All your project-specific documents. Choose a project from your selection of past projects and simply edit and update as required.
Project name
Scope of work
Project address
Responsibilities
Emergency lists
Insurances
OHS Policy
SSSP Agreement
Health and safety management plan
Incidents
Hazardous substances register
Hazard register
JSA, T/A, SWMS
Contractors
Emergency procedure
Appointments and Responsibility
Commonly used documents are pre-selected in your recommended index. The appointment and responsibility templates includes standard text that you can easily customise to suit your appointments if needed.
Non-construction templates are also available. Or create your own.
Personnel
Storage of personnel documents. Reminders are set for expiring documents. Always available and easily accessible
Personal detail
Position in company
Contact details
Next of kin details.
Copy of ID
Medical certificates
Training and competency register
Clothing sizes
PPE Register
Health and safety meeting minutes
Man-hours register
Warning letters issued
Employee training certificates
Policy, Plans and Procedures
80+ Plans and Procedures included. Sample master plan documents are supplied. Use as is, or replace with your own. Edit to suit. A few examples:
Health and safety policy
Health monitoring policy
Worker engagement policy
Environmental plan
Waste management plan
Traffic management plan
Quality control plan
Training plan
Hazard review
Safety training porocedure
Contractor management procedures
Contingency Plan / Business Continuity
Implementation plan
Hygiene plan
Fatigue management plan
Site supervision plan.
Plus Add your own.
Emergency Management
Preparations for an Emergency. Reminders are set for expiring documents. Always available and easily accessible
Emergency plan and procedures
Hazard management procedures
Emergency route layout
Activity specific emergencies
Placing safety signs
Site evacuation procedures
Plus Add your own.
Hazards and Risk Management
Identify hazards and set up procedures to reduce or eliminate the risk. Reminders are set for expiring documents. Always available and easily accessible.
Hazard / Environment site inspection
Risk assessment plan
Risk monitoring plan
Risk assessment review plan
Method statements
Fall protection plan
Risk assessments
Risk assessment builder
SOP – Safe Operating Procedures
SWP – Safe Work Procedures
Summary of control measures
Incidents and Accidents
Incident and Accident Reporting and Process. Reminders are set for expiring documents. Always available and easily accessible.
Incident & Accident register
Incident and accident investigating procedure
Incident investigation
Near miss report
Photo records of incidents
Incident and accident reporting procedure
Incident report summary
Incident classification
Plus Add your own.
Acts and Regulations
A complete copy of the Act or link to download.
Occupational Health and Safety Act
Construction Regulations
GSR – General Safety Regulations
COID Guide
GMR – General Machinery Regulations
Asbestos Regulations
POPIA Act
Electrical Regulations
Ergonomic Regulations
Disaster Management Act (Covid-19)
Hazardous Substances
A hazardous substances register allows for the storage of unlimited listed items
Hazardous Products and Substances Register
Hazardous chemical inventory
Training and Induction
Reminders are set for expiring documents. Always available and easily accessible.
Training and competency register
Attendance register
Site rules
Worker handbook
Construction site induction arrangements
Workplace induction forms
Visitor attendance register
Training register
Pre-start meeting forms
Safety induction meetings
Site briefing and toolbox talks
Workplace training report for individuals
Management meetings
Toolbox Talks Safety Training
A wide range of Toolbox Talk discussion guides is available.
40+ Available
Plus ADD your own.
10-minute training sessions
Sign sheets for workers to acknowledge training
Store training diagrams
Store training pictures
Registers
Registers and Recording of Equipment. Print and record data on a monthly or weekly basis. Always available and easily accessible.
PPE Issued register
Tools and equipment register
First aid box – minimum requirements
First aid – Treatment register
Ladder register
Safety harness training register
Barricade register
Vehicle registers
Daily plant register
Fire extinguisher training register
Fire fighting equipment register
Inspections and Checklists
A wide range of inspections and checklists. Reminders are set for expiring documents. Always available and easily accessible.
Health and safety inspection
Site inspection
PPE Inspection
First Aid
SHE Rep inspection
Covid-19 Symptoms check
Hot works permit
Safety harness inspection
Hand tools
Ladder
Portable power tools
Electric drill inspection
Grinders
Welding equipment
Compressor
Jackhammer
Power generator
Formwork
Scaffold
Excavation
Housekeeping
Environmental
Stacking and storage
Vehicle inspections
Toilets
Distribution boards
Vehicles
Motorised plant
Trailer
Compactor
Skid-steer (Bobcat)
Brush cutter
Chainsaw
Line trimmer
Wood chipper
Plus Add your own.
Operational Management
Manage vehicles, tools, equipment, plant, machinery, and vehicles.
Service Records
Photo Records
User details
License and registration
Renewals
Calibration records
Checklists
Internal Safety Audits
Company document storage
Plus Add your own.